Keren Cytter is an artist from Israel, now based in New York. Apart from the video projects and films with clearly constructed narrative, Cytter is actively engaged in dance, theater and performance. She is the co-founder of D.I.E. NOW (Dance International Europe Now), a dance and theater company consisting of 5 non-professional dancers, with tours in Europe, Unites States and Asia. Recently, she has moved her focus to poetry and literature. At the 6th Moscow Biennale of Contemporary Art Keren Cytter shows a collection of video works created over the last 10 years.
Maria Kramar and Keren Cytter met on the 7th day of the Biennale and took a walk through the Central pavilion of VDNKh, discussing the exhibition.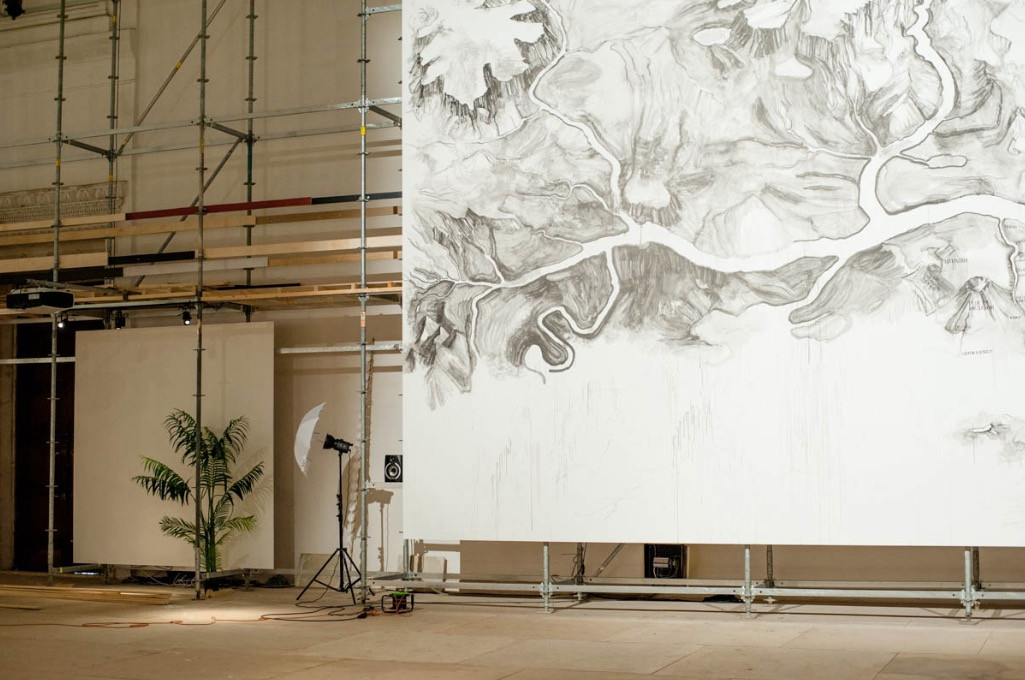 Keren Cytter: This is, actually, my favorite piece. I didn"t really look at the Biennale, but this is one of my favorite, I like it a lot and it"s a shame I didn't do it.
Maria Kramar: I guess, it's not finished yet, the artist is still drawing it. Probably, he is somewhere here.
K.C: Really? This is so funny. I thought it probably took him so much time, but it didn't. What a genius! I wanted to take a photo of this, but there are too many details for Instagram. Yeah, I like it so much. The River of the Third World, the Non-aligned Movement, Gaddafi, Jihad.
М.К: This "map of the Third World" reminds me of the work of Dmitry Plavinsky "Cartography of fear", which is located at the Tretyakov Gallery in Moscow. The artist also worked with the image of the world, split it into figures using the optics of topography to capture the different terrorist organizations. There are such vocabulary as "unspecified plan", "imaginary network," "terrorist organizations with the purpose of elimination of Manhattan" in Plavinsky map.
K.C: I really like the River of the Third World and also, the Wetland of political Islam. It is a wasteland. Not long time ago I was in a gift shop in Chicago and I bought some erasers and it was written "the war on error" like 'the war on terror'. It's cute.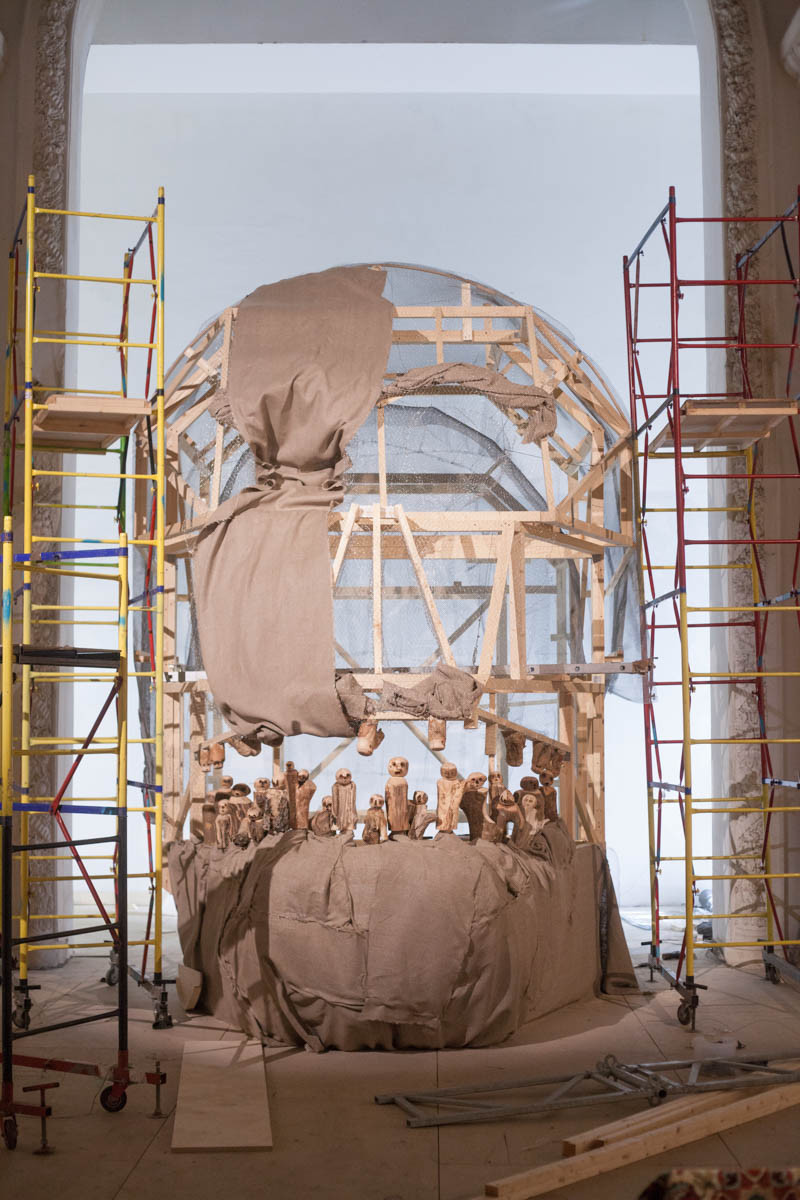 K.C: I don't like unfinished things. I also like this skull, but it is also not finished yet.
М.К: Yes it's in the process. There was just a frame at the beginning and now it got substance.
K.C: But I don't need to see the process if the work is good, so why do I need to see the process?
М.К: To follow the process and to be a part of it.
K.C: If the work is good, I am a part without watching a process.
М.К: How can you realize is it good or bad work?
K.C: I think it is a balance between homogenization and highest emotions. I think movies and videos are like that and are more complexed and still balanced, relaxed, not showing too much effort. Stuff like that, you know. When it's not finished, it becomes a kind of educational thing, so one cannot imagine much. I want to judge only the work, but not the process.
М.К: But the idea of the Biennale is not to demonstrate finished objects and show the finished things, but to involve the viewer to the process. This Biennale is more about the time that you are willing to spend on doing something.
K.C: I probably shouldn't say this, but I think people are underestimating performances, because everything I see here is very weak on the performative level, and it always leans on something else. The artist puts himself in an uncomfortable situation, because he is continuing his work in front of the audience and the artist is talking and connecting with the audience face to face. I think it"s a very weak response to something great like history of theatre and I think performance is not that great, because it"s really weak and it's not so intelligent.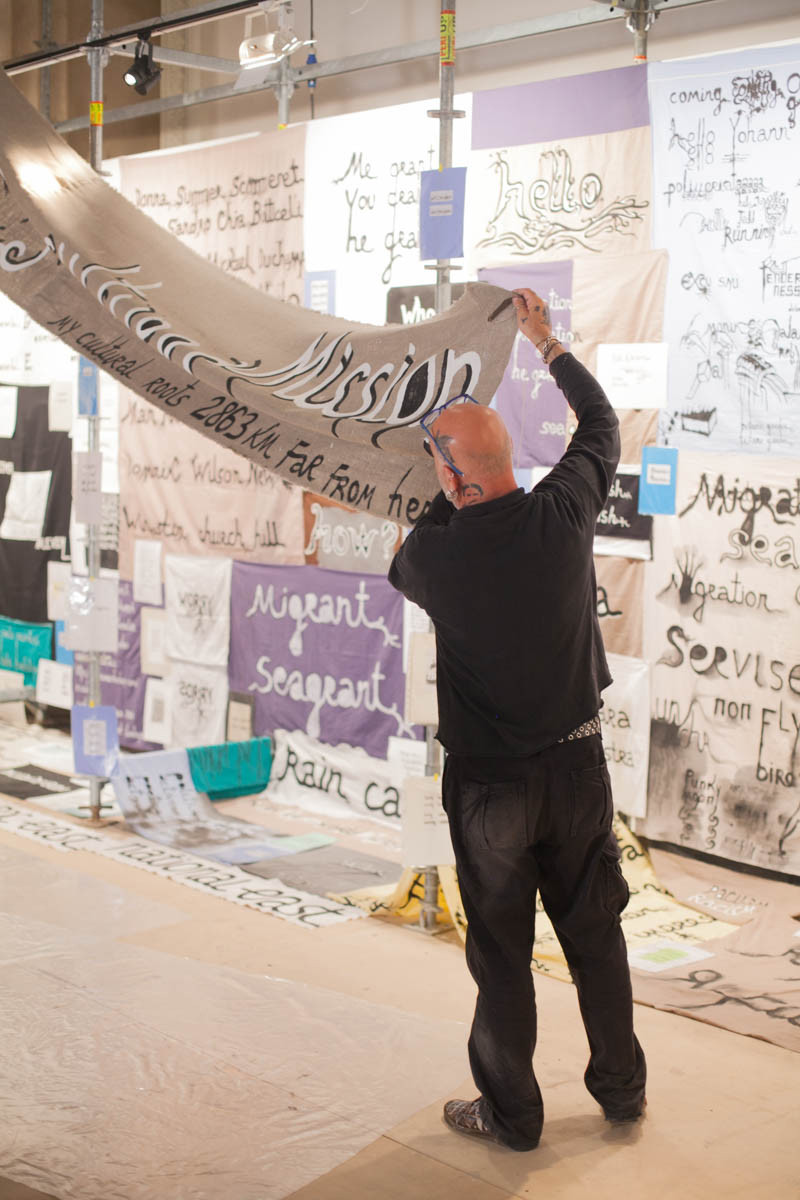 М.К: This artist is from Azerbaijan, he is so funny and kind, was forced to emigrate to Europe 15 years ago. He speaks six languages, ​​but only a little bit of each. But it is incredibly specific and precisely reflected on what he does in his artwork. He is a real European who rejects religion and is really happy in Paris, but here in Moscow, it was a great pleasure for him to come with us to the Azerbaijani restaurant. So I guess he misses his home. Every day he changes the exposition a little bit and constantly communicates with all the people here.
K.C: I like it very much. It"s nice also that you told me he was travelling so much in his life. I think when you like the artist or the piece of art, it is not worth talking a long time about it, right? I think that religion is inseparable from us, it will always exist, like humans do or like migrants problems. I think people underestimate human rights, also for women and gay people, I think it"s really horrible.
М.К: Yeah, especially in the Island of Eurasia.
K.C: Yes, and also in China surprisingly. We made a theatre play there in which a guy was slapping a woman, and there was this kind of aggressive communication and she was also swearing him, it is like an unpleasant relationship, but there was no rape or anything. But she also said things like "think for yourself" and stuff like that. When we did it in China, two Chinese girls came to us and said that they would never talk like that to a man. And when we showed that in Chicago the guy who fixed the videos said that he hoped she would kill him on a stage, so I think it"s really frustrating that some other people don"t mind that the guy was beating up a woman.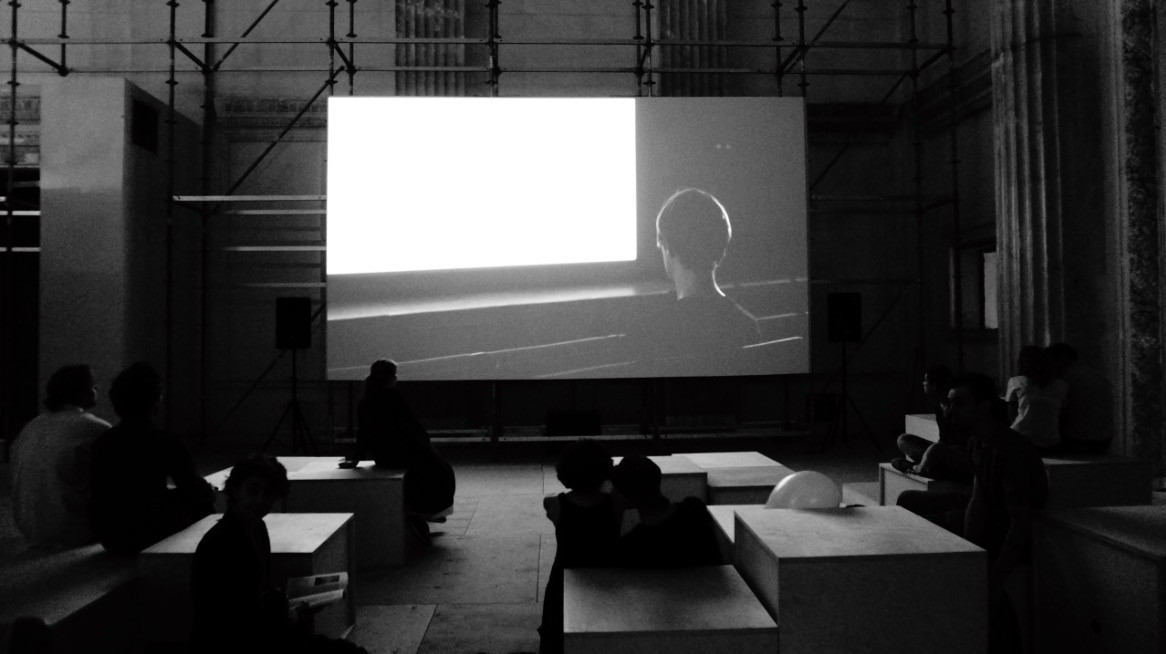 М.К: So, tell me a few words about your videos. How many videos do you present here?
K.C: I think eight, but some films are combined into small series.
М.К: How did you combine them?
K.C: I try to make it nice for the people so I put things that I didn't show for a long time. And the Video Art Manual is really entertaining, but it's only ten minutes. And then "War and Peace", this is the most Russian connection I've had.
М.К: Tell me about Tolstoy.
K.C: Yeah. I do the battle because the heroes of this story, one of the protagonists, dies in the end. I liked it a lot. I don't like to copy, I just wrote similar style with the same thing. I was studying in De Ateliers, it's an art program in Holland and my friend came to visit me. So he was the actor, so it starts with him going to the art program, meeting new people, trying to make a daily life parallel to "War and Peace". And then in the end when he goes to sleep the guy is dead, the way he died in Tolstoy, just closed his eyes and looking at the sky after the mess. So yeah, this is the funny part.
М.К: Keren, so why did the curators choose you for the exhibition? I've watched some of your videos today and I found some thinking about relationship, but nothing about borders, the city, migration, neighborhood, geography, colonial and post-colonial studies.
K.C: I don't know, Nicholas chose me, Bart I've met only today for the first time. I think there's no connection, really. Migration? I actually hate this subject. I didn't know that was the subject, I don't like direct political writing, and in the end this is just like the news, people tell you to focus on this, and actually everybody is more interested in their health and emotions, how do they feel and who is around them, and then, after that you have the outside world. So I don't think it's so important, some people want power so they put this subject forward. I think this is extremely unimportant, the only thing that makes it important is that people choose to make it important.
М.К: How to gather?
K.C: I think we are already together. I mean, aren't we all alive like on the same planet? We are together and that's it. We disagree sometimes, I mean, what do you expect to love 7 billion you don't know? If the issue is the image of "us", then I don't think that there is a certain "we" that encompasses me and people that I don't know. I mean we're all living on this planet, it is anthropology thing, that we are all coming from one thing, or we are one thing, so we are already there. Conflicts are part of being together and it is fine. Why is he doing this white thing?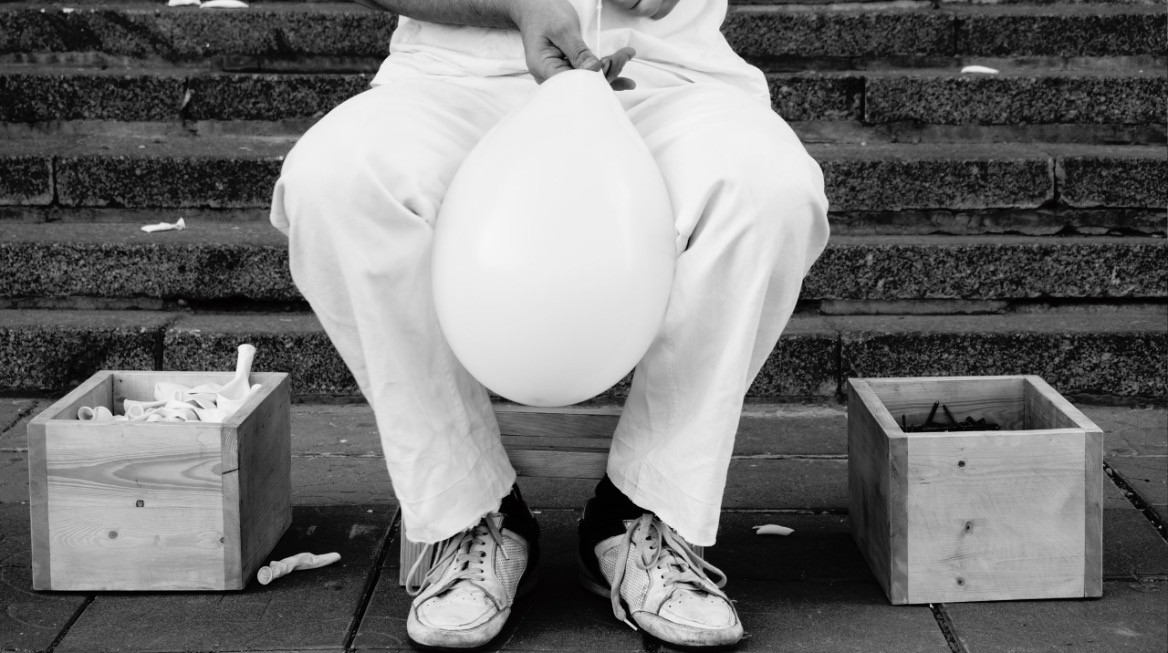 М.К: This is a Russian artist Andrey Kuzkin. He offers to the audience a nail and a balloon, and for the most part, they smash it out. In a daytime he is sitting in front of the pavilion and in the evening a performance goes on inside the pavilion.
K.C: I don't like interactive stuff and I don't like the exploding balloons. Maybe this act embodies the destruction of utopias, I don't know. Also I don't like it when people destroy materials, and this sound drives me crazy.
М.К: Yes, the artist initially creates an uncomfortable atmosphere. To be more precise, he is manipulating the viewer to create this discomfort.
K.C: It feels like you are interviewing me in Syria between the bombings while we keep on talking, keep on with our daily life.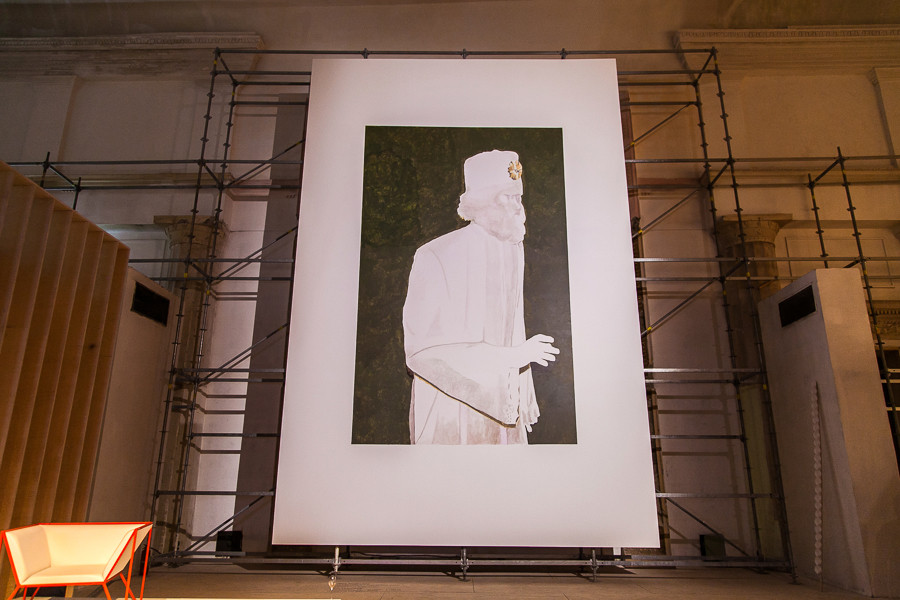 K.C: And this is Luc Tuymans, right? Yes, I like him. Was he here to paint it?
М.К: Yes.
K.C: It's so nice of him, he's such a well-known guy.