Babi Badalov is an Azerbaijani artist with a wealth of experience in relocation, who's lived in Russia, USA, UK, and is now based in Paris. He transforms his cultural segmentation into artwork: he juggles, mixes and breaks up the words from all the six languages that he speaks​​. During the 6th Moscow Biennale Babi Badalov is presenting a dynamic exhibition of poetic works executed on textiles, and he's renewing it every day, constantly communicating with the audience. We asked Babi to tell us one of the stories that happened to him this day, and to give title to this article.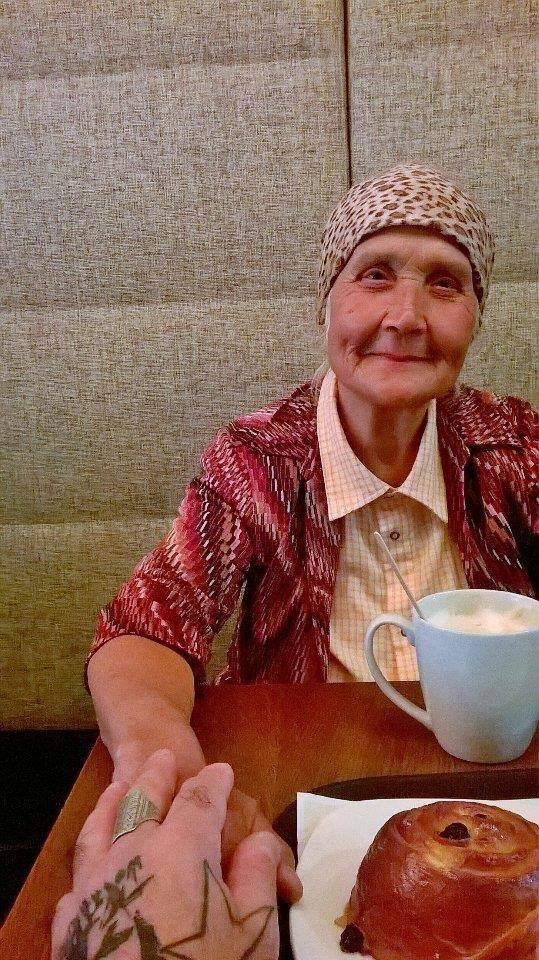 "On my second day in Moscow I went to have a coffee. There I met a poor and sad looking old woman with torn plastic bags:
"Where are you going?"
"Uzbekistan?"
"Are you from Uzbekistan?"
"Yes."
"Where are you going?"
"I am going to McDonald's to have some chai and cake and use the bathroom."
I suggested that I come with her and treat her to this coffee. So we had breakfast together. She wanted a coffee with milk, a cappuccino. I went and got it for her as well as the cake with raisins and a sandwich to take away.
She couldn"t, didn"t want to believe it. We sat and she was so impressed and kept saying that Allah had sent me. She slowly ate and drank the cappuccino. Because she didn't finish the cake, she took the rest of it with her. I told her I that I am here for work — she insisted on going to the metro and showing it to me.
"I will go to the mosque and pray for you."
The woman was 76 years old. Her name was Mahira. She was born in a small village near Tashkent, the capital of Uzbekistan. She has two sons. Talking to her was slightly difficult because she didn't speak good Russian. We were talking in a mixture of Azeri, Turkish, Uzbek and Russian. She was unbelievably happy. I hugged her a lot and told her how beautiful she is. It was very touching.
By the way I met her today as well when I came to McDonald's to buy some water".
***
A literary magazine Alatoran (which means "twilight" in Azeri) was published in Baku in 2000s. Babi Badalov designed covers of all 18 issues, and his own poetry was published as well.
***
ot B do B
from Brigitte Bardo to Benazir Bhutto
from Bertold Brext to Bobby Brown
from Bach to Bambaata
from Bartolemeo Berluskoni to Benjamin Bruno
from Bombay to Bratislava
from Bangkoka to Belgrada
from Belorussia to Bangladesha
from Belgie to Berega Slonovoy Kosti
***
MarCello MaStroiani
MarChello Chellostroiani
MastroAnne Lennox
Na Chello Igral
Rostislav MstisSlava Mogutin
Slavyan Samvelyan
RosTropovich Iosifiani
Vishel Na Final
Masteril Sterilno
Maostereofonichno
Mastroil Most Railway
Violenchelist Velosipedist
Chelyust Chelyushevski
Rastoropilsa
Napilsa
Nabilsa
***
manifest of russian neofascist man
TADJIKI GO HOME
UZBEKI GO HOME
KIRGIZI GO HOME
KAZAXI GO HOME
TURKMENI GO HOME
BEY PO LITSO KAFKASKI NASIONALNOSTEY
KILL ALL CHECHENS
ARREST ALL JEWISH OLIGARCH
WELCOME TO RUSSIA
TO RUSSIA FOR RUSSIANS
***
The Art Like Sound When You Calling The Dog Chihuahua
The Art Like Sound When You Calling The
Dog Chihuahua Chi Hua Hua Chi Hua Hua
Chi Hua Hua Chi HUa Hua Chi Hua Hua
Chi Hua Hua Chi Hua Hua Chi Hua Hua
***
WELCOME TO POSTSOVIET VIEW
BELORUSSIA — Belong Personally To Lukashenko and His Family since USSR Collapsed
TAJIKSTAN — Belong Personally Imomali Raxmonov and His Family since USSR Collapse.
KAZAKISTAN — Belong Personally To Nursultan Nazarbaevu and To His Family since USSR Collapse.
Uzbekistan — Belong Personally To Islam Karimovu and His Family since USSR Collapse
Azerbaijan- Belong Personally To Ilham Aliev and His Family Since His ather Heyder Aliev Died and USSR Collapsed
RUSSIA — Belong To Putin and His Mafia Since USSR Collapse
TURKMENISTAN — Was Belong To Turkmenbashi Saparmurad Niyazov Sinse He Died Belong To Kurbankuli Berdimuxammedov Family and Friends…