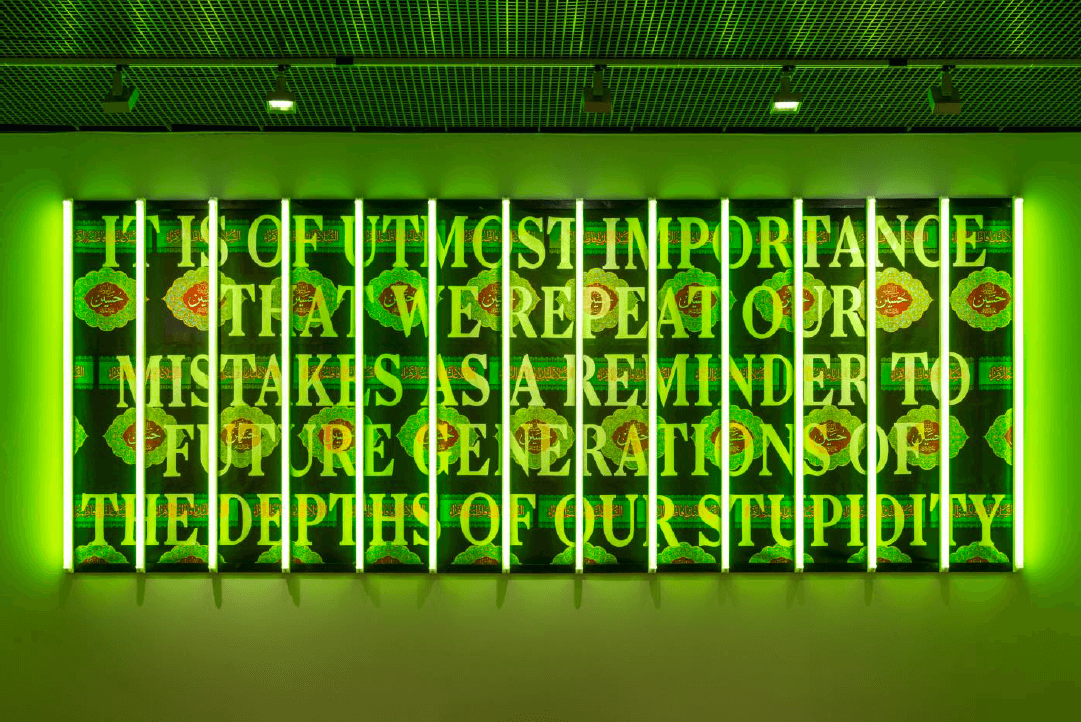 Ob 2021 das erfolgreichste Jahr von Walter Smerling ist, wird bei der erstaunlichen Dynamik dieses wendigen, weltweit agierenden Kurators, Museumsdirektors, Stiftungsvorstands und künftigen Berliner Kunsthallenchefs schwer zu sagen sein. Seit 35 Jahren ist er im Geschäft. Wir nutzen eine ungewöhnliche Verschnaufpause (wegen häuslicher Quarantäne), um mit Walter Smerling zu sprechen.
Erst kürzlich hat er im Museum Küppersmühle die Andreas Gursky Ausstellung (bis 13. April 2022 verlängert) eröffnet, wenige Tage später den wohl gelungenen Erweiterungsbau der Küppersmühle der Pritzker-Preisträger Herzog & De Meuron am Duisburger Innenhafen. Die Einrichtung der Sammlung von Sylvia und Ulrich Ströher in den 36 neuen Räumen, die alle großen Namen von Emil Schumacher bis Anselm Kiefer umfasst, besorgte Smerling. Nicht zuletzt läuft mit "Licht und Transparenz" eine unerwartet gut besuchte Kunstschau im frischsanierten Bonner Münster (bis 31. Jan.2022). Auch Nachwuchstalente will er fördern, sie erhalten einen Katalog Ihrer Arbeiten.
Schon saß er wieder im Flugzeug nach Paris und weiter nach Salt Lake City, wo er nach Salzburger Modell einen Walk of Modern Art anlegen soll.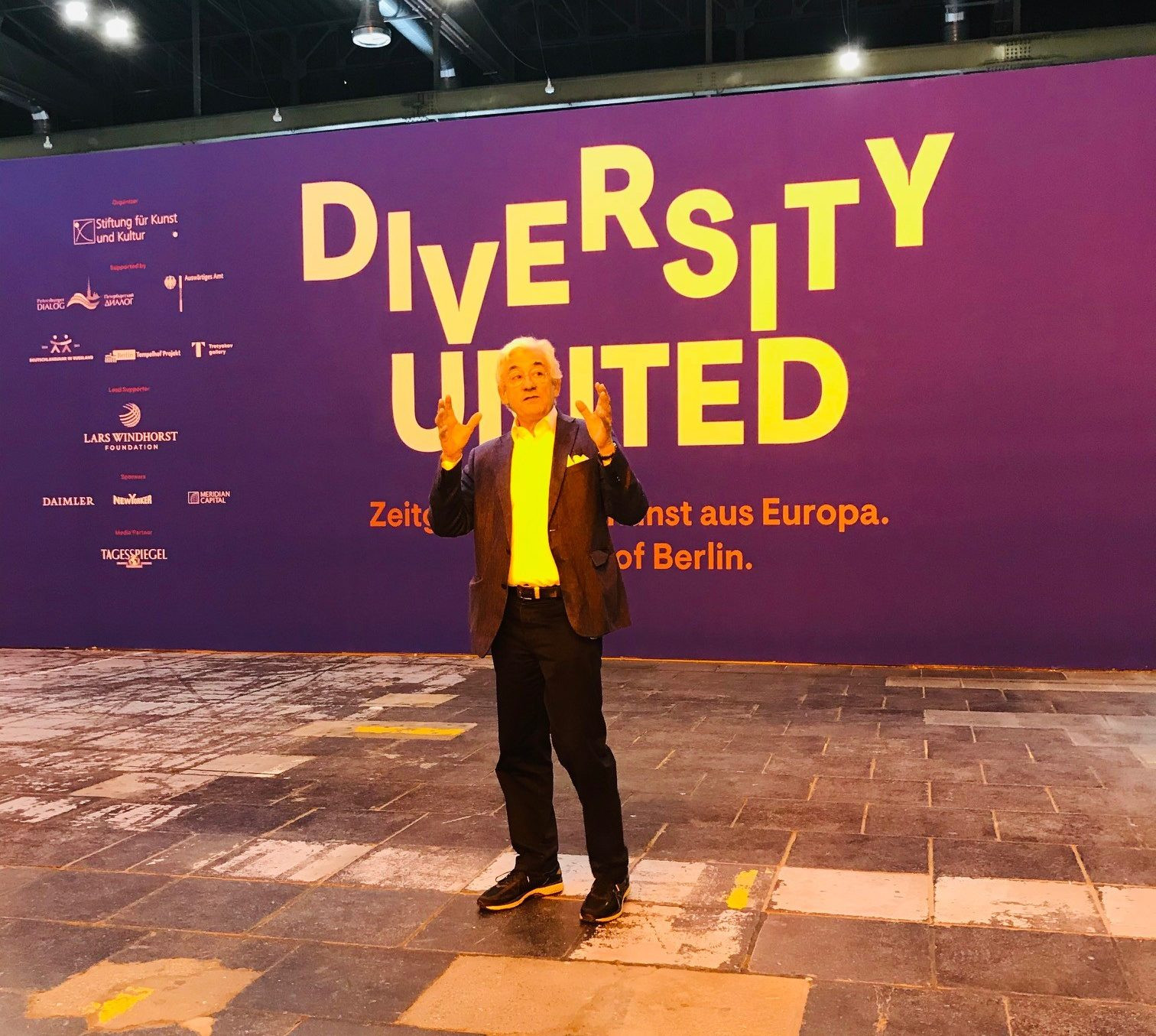 Walter Smerling aus der Quarantäne

Ich kam aus Moskau zurück, wo ich den Aufbau unserer Ausstellung Diversity United in der Neuen Tretjakov-Galerie geleitet habe, um an einem Charity-Abendessen in Berlin teilzunehmen. An dem Abend kam ich zwischen zwei mir unbekannten Damen zu sitzen. Die, wie ich durch einen Anruf des Gesundheitsamtes zwei Tage später erfuhr, mit dem Corona-Virus infiziert waren. Da spürte ich schon erste Symptome, Kopf- und Gliederschmerzen und steigendes Fieber. Ich begab mich sofort in häusliche Quarantäne. Die Gliederschmerzen nahmen stark zu und ich schwitzte, was ich konnte. Zum Glück habe ich bei mir Zuhause drei Betten, die ich nacheinander durchschwitze. Ich habe mich glücklicherweise wieder erholt. Ein Test hat ergeben, dass ich das Virus überwunden habe. Ich bin sehr froh darüber, dass es vorbei ist.
Unterdessen wurde die Ausstellung in Moskau eröffnet, es ist in meiner langen Zeit als Kurator die erste Ausstellung, bei der ich selbst nicht anwesend sein konnte. Ein Jammer, es war sehr frustrierend.
Ursprünglich sollte Diversity United als erste Station in Moskau eröffnet werden, es gab aber große Schwierigkeiten, weil dort drei unserer Partner, NGO´s, u.a. der Petersburger Dialog auf eine Schwarze Liste gesetzt wurden. Worauf hin wir auf die Eröffnung in Moskau verzichteten. Zeitgleich mit unserer Eröffnung in Berlin mit Bundespräsident Frank-Walter Steinmeier erreichte uns die Nachricht, dass die NGOs von Moskau verboten wurden. Wenn unser Kooperationspartner in Moskau verboten ist, dann können wir uns nicht vorstellen, unsere Ausstellung dort zu eröffnen.
Umso froher bin ich nach schwierigen Verhandlungen, daß nun in Moskau die zweite Station doch noch eröffnet werden konnte.
Unsere russischen Partner kamen nach Berlin, um sich die Ausstellung im Tempelhofer Flughafen anzusehen. Wir konnten einen guten Weg mit ihnen vereinbaren, um Diversity United jetzt in Moskau zeigen zu können. 90 Künstler mit über 400 Arbeiten konnten nach Moskau auf den Weg gehen. Wir haben für Januar/Februar 2022 zwei Diskussionsforen vereinbart, auf der diese NGOs in Moskau auftreten können und dort Stimme und Wort haben. Wir werden den Petersburger Dialog und die anderen NGOs in die Ausstellung einladen. "Kunst baut Brücken jenseits politischer Interessen" — an unserem Wahlspruch wollen wir auch in diesem Fall festhalten. Wir werden sie einladen und ich hoffe, sie werden kommen.
Die Ausstellung ist eröffnet, die Resonanz ist sehr erfreulich. Besonders junge Menschen wollen die Ausstellung sehen. Es gibt sehr viele Kommentare, die sich begeistert über die Ausstellung äußern und wir wollen sehen, wie sich das in den nächsten Monaten entwickelt. Die Ausstellung beschäftigt sich mit Europa und den vielen schwierigen Themen auch in Russland. Ich bin begeistert darüber, dass wir das Werk über August Landmesser in Moskau zeigen können. Sanchez Fernandez Castilles hat ja 5000 Landmesser-Figuren in die Ausstellung gebracht. Jeder Besucher, jede Besucherin kann dort eine persönliche Vorstellung von Freiheit und Demokratie an die Wand schreiben. Sie sind eingeladen, einen Kommentar zu hinterlassen und auch eine Landmesser Figur mitzunehmen. Ich bin gespannt was dabei rauskommt. Wie ich hörte, gab es schon am Eröffnungsabend heftiges Gedränge an der Wand.
Ich werde jetzt nach Paris aufbrechen, um die dritte Station festzumachen. Wahrscheinlich wird sie im Parc de la Villette stattfinden. Das wir nicht ganz einfach sein, weil die Ausstellung mehrfach pandemiebedingt verschoben werden musste, die Leihverträge laufen aus. Es wäre aber schön, wenn es in Paris 2022 einen guten Abschluss finden würde.
Durch Diversity United haben wir gute Erfahrungen mit den beiden Hangars im Tempelhofer Flughafen sammeln können, außerdem wollen wir die Ausstellungsarchitektur weiter nutzen. Für die kommenden zwei Jahre wollen wir dort die Kunsthalle Berlin aufleben lassen. Schon Ende Januar werden wir beginnen. Die Hangars wollen wir für experimentelle Ausstellungen nutzen. Um keine Zeit zu verlieren, starten wir zunächst mit der Retrospektive Bernar Venet. Wir zeigen Werke, die er in den letzten 60 Jahren geschaffen hat, Skulpturen, Bilder und Performance. Schon jetzt sind es 25 Trucks, die wir für die Ausstellung nach Berlin schicken werden.
Ich werde die Kunsthalle Berlin wie bei allen Projekten der Stiftung für Kunst und Kultur, die wir jetzt bereits seit 35 Jahren machen, im Team führen. Wir bauen für Berlin einen eigenen kuratorischen Beirat auf.
Some bridges are borders — Diversity United at the New Tretyakov Gallery
Sergey Babkin

The travelling exhibition Diversity United could have arrived to Moscow in 2020 but at some point, the project was cancelled with rumors about some kind of political conflict surrounding the event. That news was not widely discussed, and eventually the Muscovite art community seemed to have entirely forgotten about the plans to open this project in the New Tretyakovka.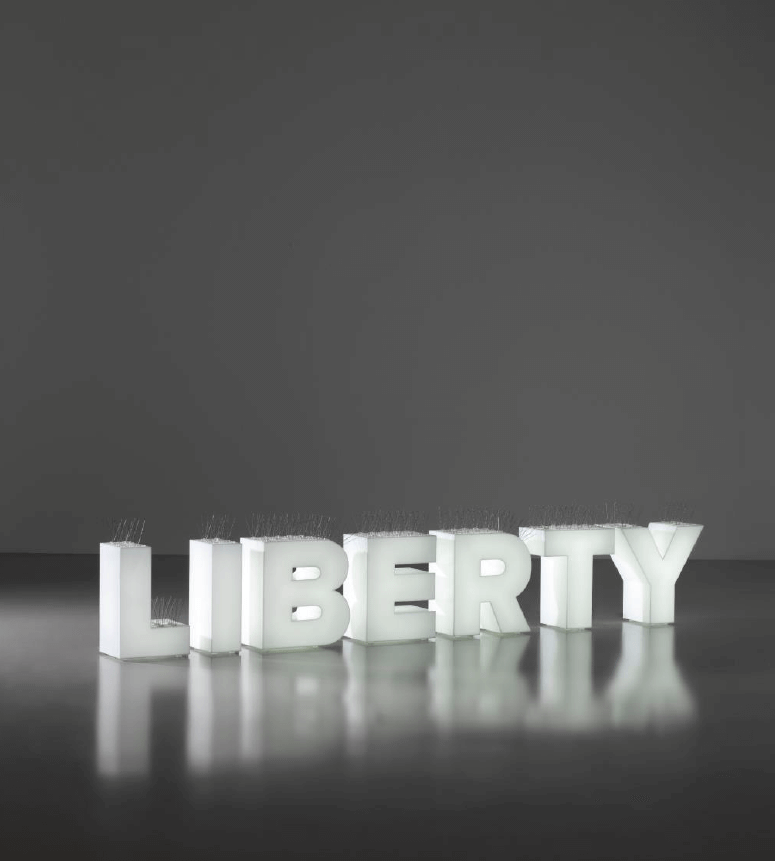 Nevertheless, a year has passed, and the exhibition has been finally opened in the West Wing of the New Tretyakovka. But one has to be quite curious to learn that this has actually happened as it seemed that there were no announcements in media about the project. Moreover, it is on show at the same time as a very popular exhibition of Russian Symbolist painter Mikhail Vrubel in the other wing of the building with its visitors standing outside the Gallery in long queues waiting for their covid-passes to be checked by the security. Personally, I learned about the show from the Instagram account of Slavs and Tatars art group. And I was not alone: a few of my comrades pointed at the fact that it seemed that this vast exhibition is held kind of secretly.
There were rather few visitors to Diversity United even on Friday evening which is quite a popular timing for Muscovite audience to go to exhibitions. When I saw the exhibition, this secrecy became an even more confusing phenomenon to me. It might have been born in what the Tretyakov Gallery thought might be a scandalous political content of the exhibition with its seemingly feminist and decolonial political approaches. But these well-meaning aspirations of the artists and the curators were conveyed in quite toothless ways — through standard post-conceptual art practices associated with an older generation of artists most of whom rose to prominence in late 1990s and early 2000s.
Moreover, the issues analyzed by the works at the exhibition seem quite irrelevant to the Russian context. It seemed that by moving the exhibition from Berlin to Moscow the organizers of the show state that the context stays the same as if Russia is a "European" bourgeois democracy and all the problems of European Union also apply to it. Ironically, the (not so sharp) criticism of the European status quo at the exhibition is in some way quite in accordance to Russian propagandist mottos claiming contemporary Europe to be a failed project. This might be in fact so, however, not paying attention to the kleptocratic state of Russian politics is indeed a safe way to bring the exhibition to a local state museum but it seems pretty much hypocritical at the time of tightening reactionary politics of the Kremlin.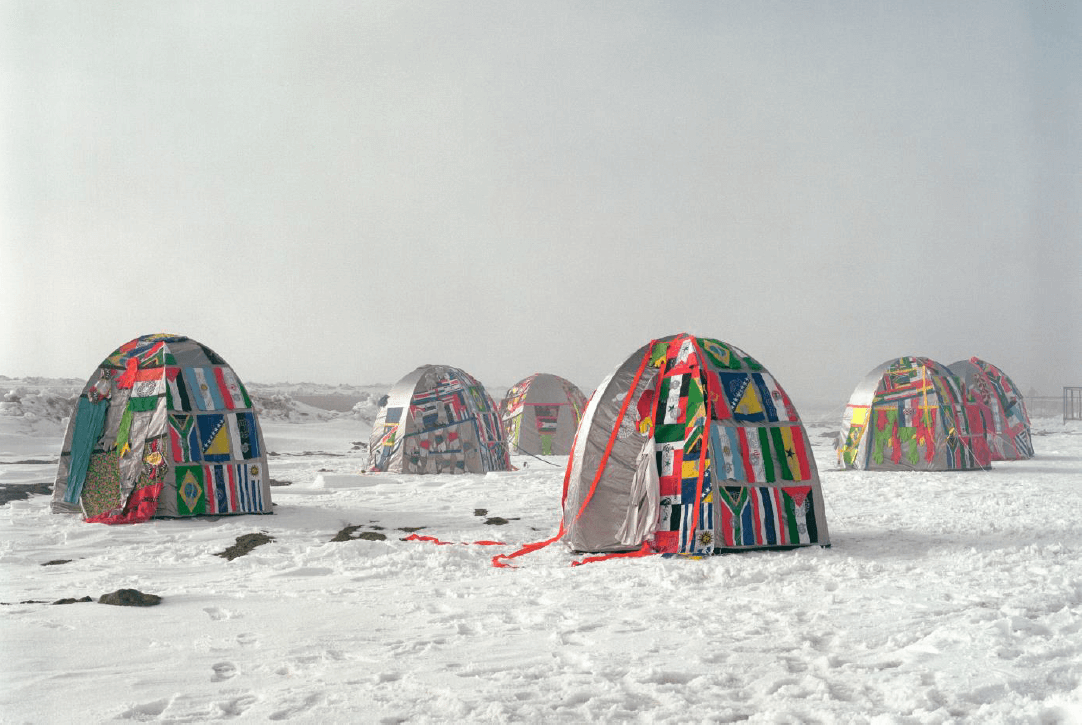 But what if that is the case? Contemporary art here plays the part of some kind of a universal language. The visitors are invited to see what ways exist to talk about problematic issues. But this well-meaning interpretation also faces some problems. The concept of travelling exhibition is problematic in itself due to the rigidness of the format. There are very few decent examples of contextualizing such shows in local conditions. The claimed aim of the Diversity United exhibition hints at such projects as American National Exhibition in Sokolniki park in Moscow that was held in 1959 and was organized as some kind of a cultural bridge between nations during the Cold War. But while the popularity of that project was grounded in the curiosity of Soviet citizens who wanted to learn about life on other side of the Iron Curtain, Diversity United can't reach the same effect in a globalized world, especially considering that its key audience is most probably aware of the state of artistic production in the West, as Tretyakovka is obviously not busy attracting non-professional audience to the show.

Taking this into consideration, I can't help being annoyed by the didactic undertext of the project that brings prominent European artists to the country that is hypocritically "invited" to be a part of Europe, Europe that doesn't let Russian citizens cross its borders without a visa and is always "concerned" about human rights abuses in Russia while at the same time investing in infrastructural projects to transport Russian gas making Russian oligarchs richer and Russian citizens even more stuck in the horror of Russian extractivist mafia-state. The selection of Russian participants of the exhibition tells a lot about it. Olga Chernysheva is a classic of local contemporary art scene and her work about the poverty of Russians in 1990s (even though this piece is really a powerful statement about Russian economy) in this context functions more as aesthetic curiosa. The same goes about Irina Korina's installation and Katya Muromtseva's paintings which in different ways work as allegoric pieces exoticizing local politico-aesthetic regimes.
There is a small detail in the exhibition that reveals most of its inner and outer contradictions. In a hall, dedicated to the AWARE project that aims at making female artists visible, in one of the texts the word «гомосексуализм» (gomoseksualizm / homosexualism) is used instead of the politically correct «гомосексуальность» (gomoseksualnost' / homosexuality). This withdrawal to the language of right-wing homophobes in the middle of an emancipatory project tells us more about the project than most curatorial and artistic approaches represented there.

Veröffentlicht von еiskellerberg.tv — eine Autorengemeinschaft, die Filme und Texte zur Kunst produziert und verbreitet. Bedeutende zeitgenössische Künstler und Protagonisten der internationalen Kunstszene werden in aktuellen filmischen Portraits vorgestellt. Dazu kommen Hintergrundberichte zur Kunst unserer Tage, Kommentare und Meinungsbeiträge.