Art
Brutal tenderness by Arsen Mollakaev
A gap that cannot be filled
Thomas Crow
No Idols: The Missing Theology of Art
Wars and conflicts spur a desire for refuge, for essence, for search of sense in the current moment. In this regard, it is pertinent to examine the works of an artist who is male and comes from stereotypically belligerent Caucasian origin.
Arsen Mollakaev was born in Dagestan and raised in Moscow, which has largely affected and to material extent explains his artistic practice. This nomad feeling is a connecting definition between himself, his family and the history of his people.
At the first glance digital works by Mollakaev relate to different subjects, however they are all examining the same field. Through his mastery of composition and imaginative narratives, Arsen Mollakaev explores who we are. This artist uses aesthetic forms in search for ethnic, social, political and religious identity, aiming to develop socially progressive viewpoint. His colorful, often twisted, take on contemporary culture creates an interesting analysis of phenomena between tradition and modernity.
Although this artist has been definitely influenced by Islam-dominated homeland, he turns to religion not as subject matter, but rather for continuous questioning of the relationship between the individual and the society. Specifically, Mollakaev is reflecting on fast strengthening of Islam, when the new norms can be distorted and exaggerated.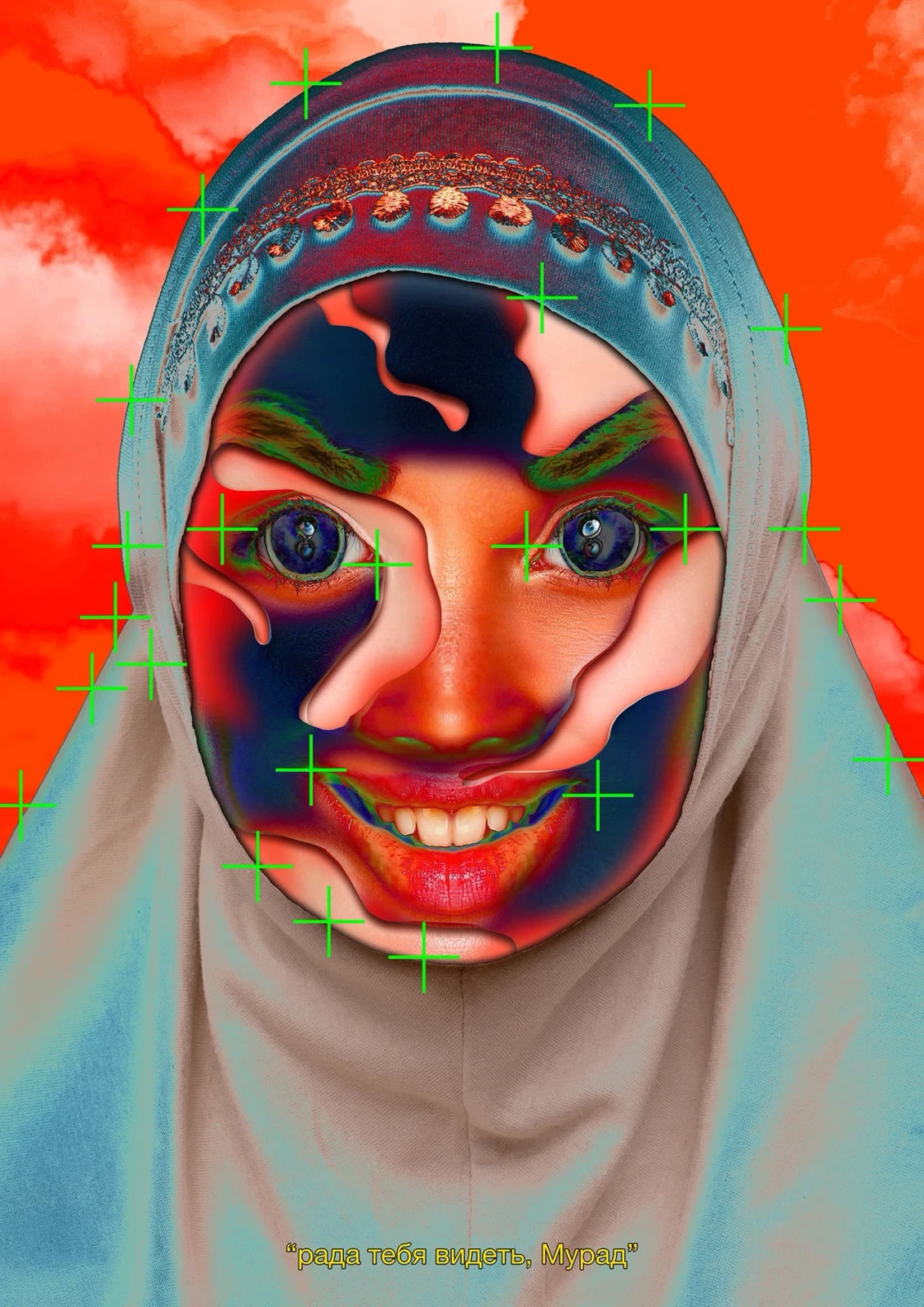 The work Glad to see you, Murad was created to raise the questions regarding the role of women in Islam. The horrifying portrait of a girl wearing hijab and covered with marks of a surveillance system irradiates fear, insincerity, subordination and obedience. This is a challenge to the viewer's understanding of what it means to be a totally controlled Muslim girl. The work expresses the urgent need to reach beyond our traditional concepts of religion, and embrace tolerance and compassion.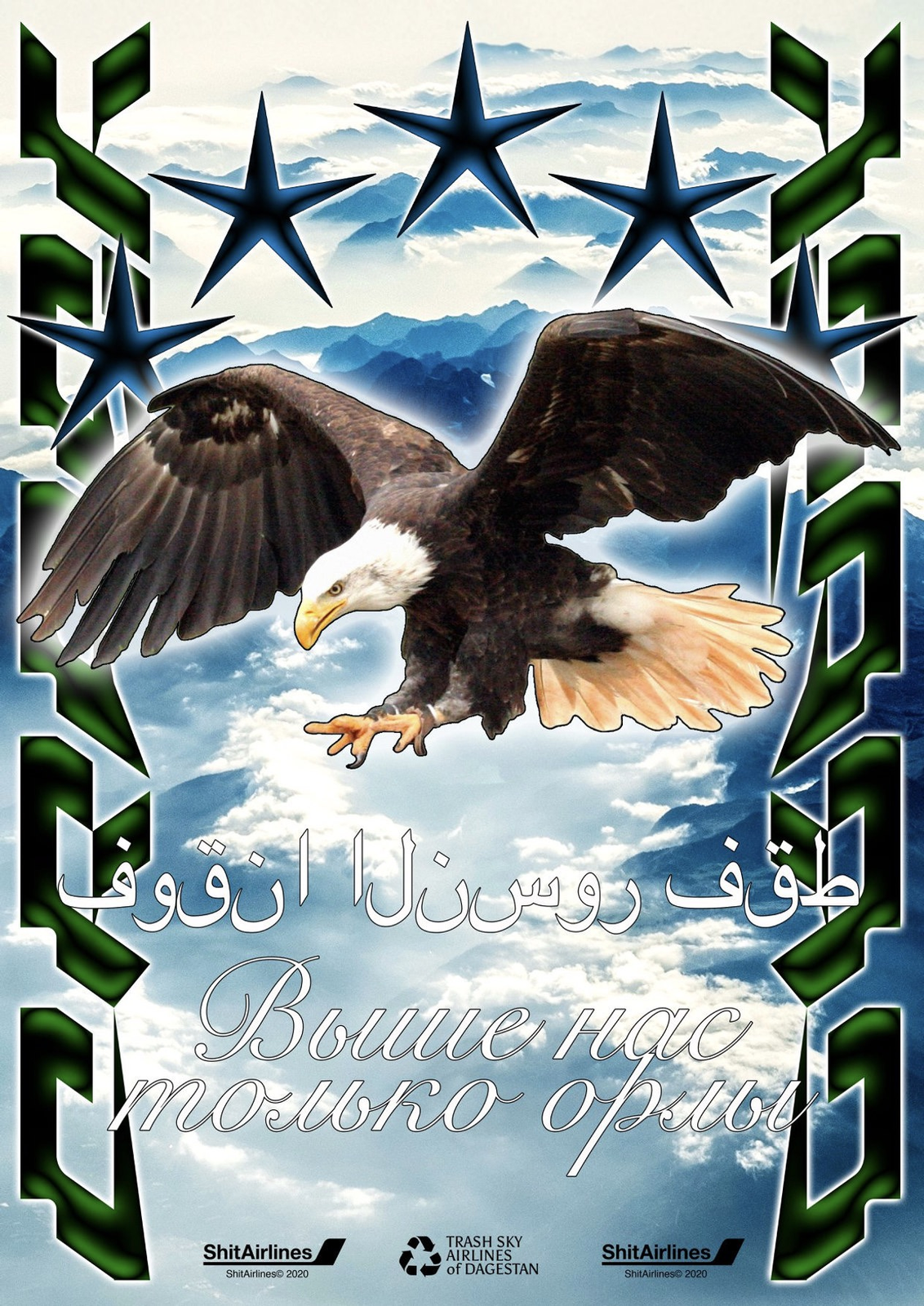 Being focused on Caucasus-related topics, Mollakaev developed a speculative project NCFD, representing a guide to an imaginary Northern Caucasus Federal District, where author is reflecting on a possibility of NCFD existence. He still has a hope it is viable even taking into account the level of misunderstanding and the history of violence between the ethnicities of the region. For the artist, this is both an attempt to look at a familiar landscape at another angle, as well as a thorough analysis of the regional features.
The concern relating to the growing polarization of the society becomes central in the work depicting Khabib Nurmagomedov, mixed martial artist from Dagestan. The region is known globally for its wrestlers, and this sport is almost a religion for local people. It is often said that wrestling was popularized to tame warlike spirit of the Dagestani. However, the work Every brute will answer for its words is reflecting on untamed violence, hardness and intransigence. The artist extrapolates aggression and intolerance to non-Muslim fighters to the society as a whole. At the same time, there is a curious sense of fragility in this work — while the fighter reminds of some deity due to plentiful limbs and all that golden glow, his soft pink flesh is obviously vulnerable.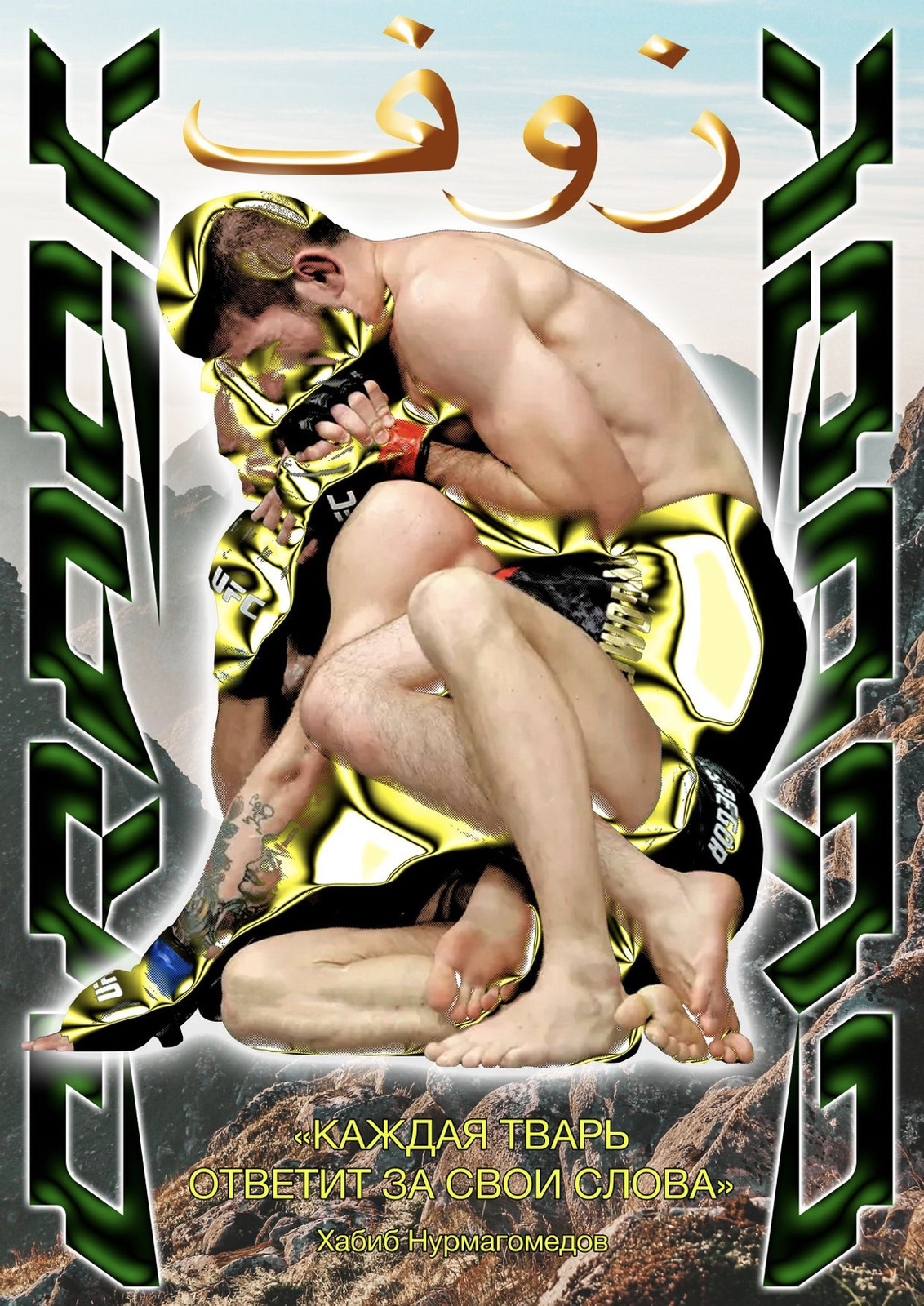 This contrast is the characteristic feature of Arsen Mollakaev. In his works, brutality and frankness are underlined by tenderness and softness. The artist approaches sensitive issues without harsh judgement, but with hope for dialogue.
Alina Chichikova
Curator, art critic
Co-founder of fābula gallery
Subscribe to our
channel in Telegram
to read the best materials of the platform and be aware of everything that happens on syg.ma