Art
Elena Esaulova: Contemporary Jewellery Art and Beyond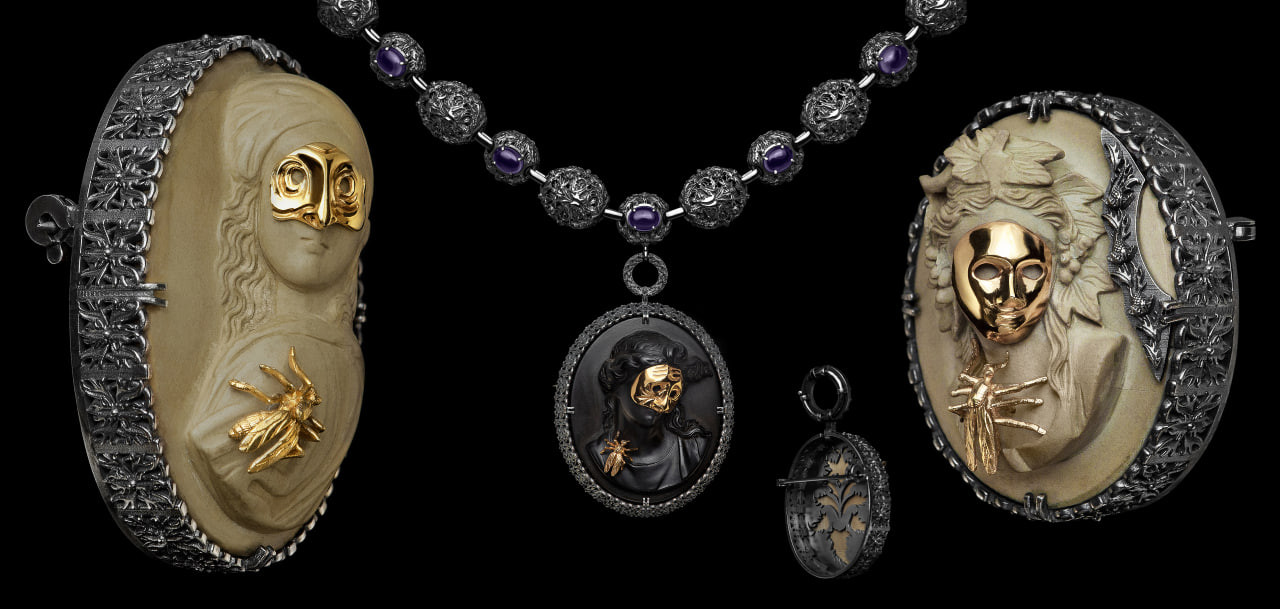 Contemporary jewellery art is a field of endless aesthetic, ethical, and interdisciplinary searches. Having developed from the everyday life of the multidirectional efforts of narrow workshop groups of professionals, contemporary jewellery art represents a wide range of practises, methods, and personalities that take it beyond the traditional process of producing accessories for bourgeois consumption. A contemporary jeweller is primarily a contemporary artist and inventor of their own identity, their own myth, their own philosophy, and their own unique view of comprehending and using the world.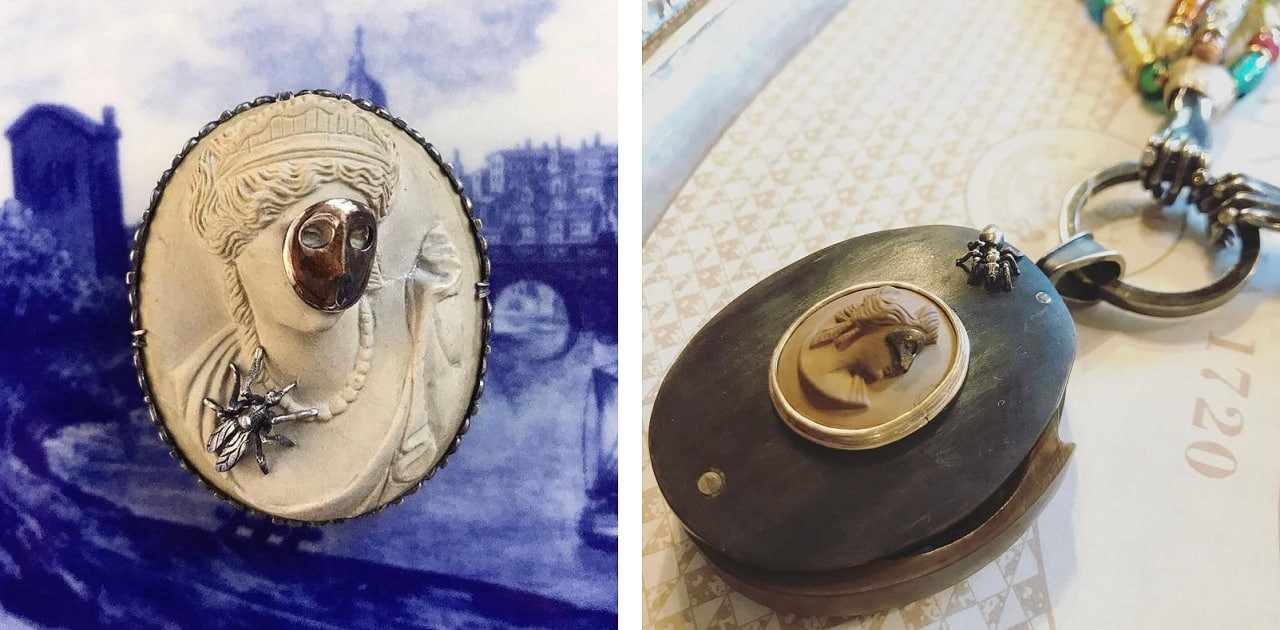 Elena Esaulova is an excellent example of an outstanding contemporary artist-jeweller working in a complex, sophisticated, highly professional technique and adhering to (and promoting!) the values of awareness and responsibility of the artistic existence of a person in the world flying into the abyss of the consequences of desperate overconsumption. Elena Esaulova consciously follows the global trend of mindfulness (RRR: reduce, reuse, recycle, and, in particular, upcycling). In her artistic practise, she actively uses old Italian cameos brought as banal tourist souvenirs by travellers on the Grand Tour of the late XIX century. Interestingly, it was among jewellers that the tradition of recycling old jewellery into new ones was born. Of course, this was not caused by an eco-trend or the value foundations of contemporary art of the XX–XXI centuries (which did not exist at that time), but was due to the high cost of gold and the rarity of some precious stones. For example, Byzantine masters did not disdain to carve crosses or wings on Greek and Roman gems, thereby turning ancient pagan gods and goddesses into "actual" angels. Elena Esaulova and other contemporary jewellery artists use a similar approach (recycling antique or vintage items), but not for the purpose of glorifying Empire© or Religion©, but in the name of saving antique items, in the name of rethinking the value of the artist's work, in the name of rethinking the historical value of a thing. The recycling of antique jewellery allows Elena Esaulova to explore and analyse current social problems: the repressiveness of social status markers, the alienation of people from each other, the crisis of care, social life as an endless disguise, and myth-making as trauma.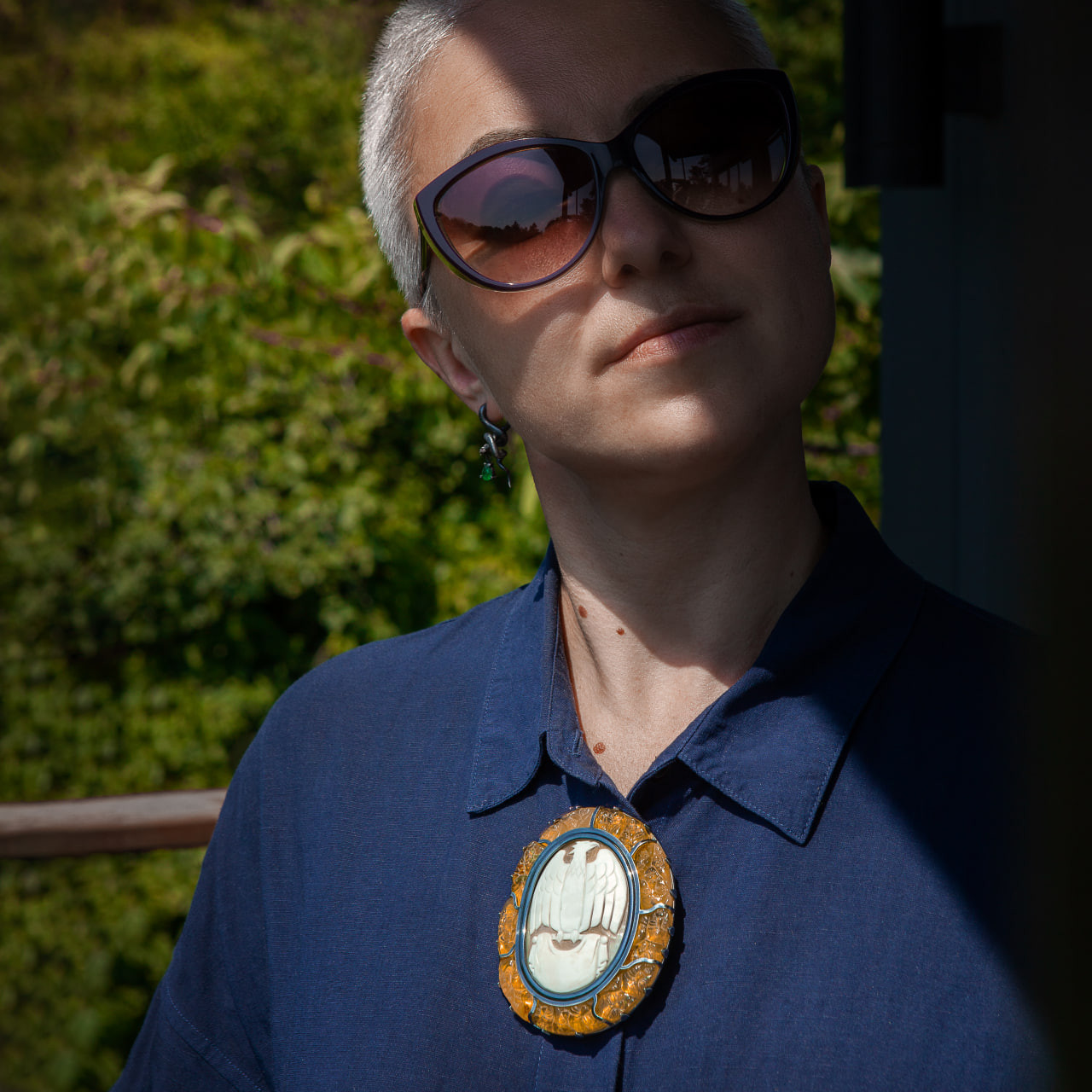 Elena's works can be described as extremely detailed but at the same time minimalistic, compositionally concise, paradoxical, and full of subtle humour. Elena masterfully combines jewellery techniques from different eras (for example, kintsugi is a unique ancient Japanese gold technique for restoring broken jewellery) and countries and uses unusual and rare materials. Several jewellery collections by Elena Esaulova are of particular interest.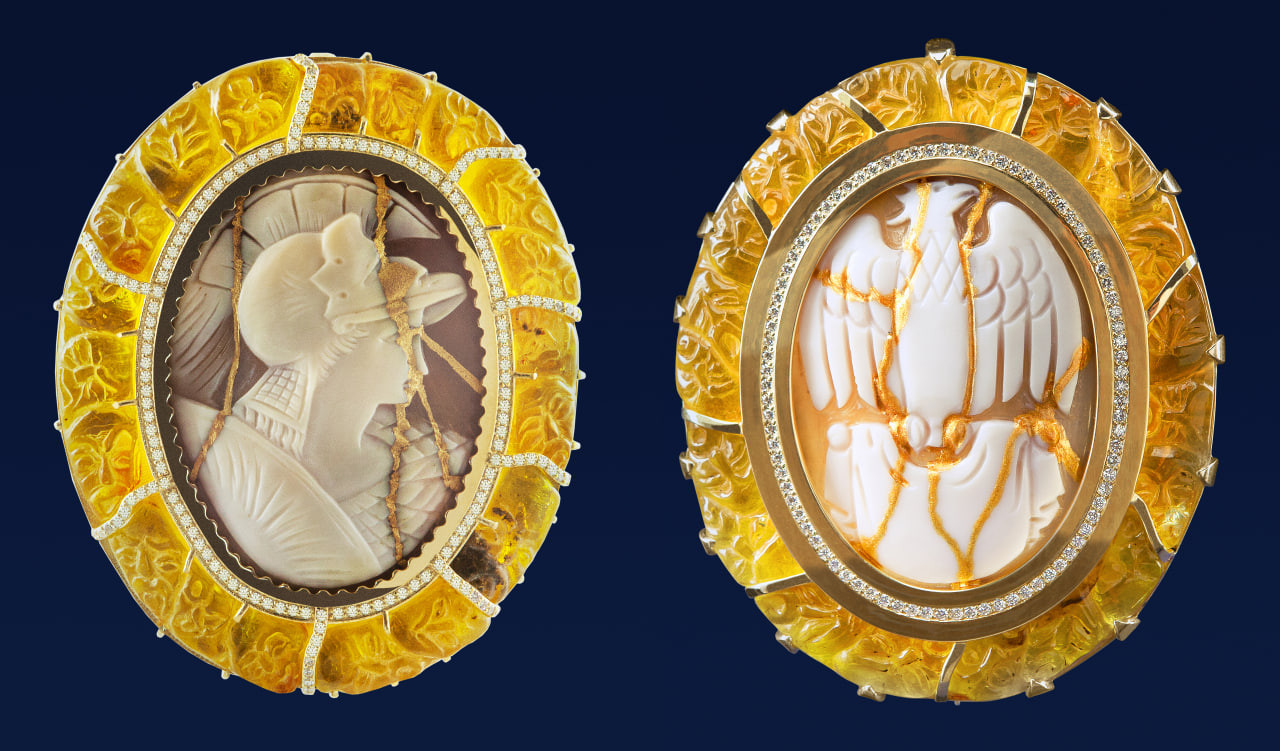 For the Memento Mosquito collection, the artist made a series of 12 products combining antique cameos made of lava, stained oak, vulcanite, and bone in a contemporary author"s frame and gilded classic Commedia dell"arte masks. Thus, the artist draws parallels with the closed image of a contemporary person hiding behind avatars on social networks. In addition to this, there is a stinging golden mosquito on each cameo, which has become a reflection of society and, on occasion, will find a place free from the mask to bite, hurt, or harm.

Later, in the next series of works, Elena went further in her reinterpretations, and already through the brooches-pendants "Rebirth," she showed the attitude to our contemporary realities when people, as in ancient times, create their new gods, extolling the next tyrant to Olympus, and then suffer from his destructive actions. These ornaments also combine elements of antique and contemporary materials.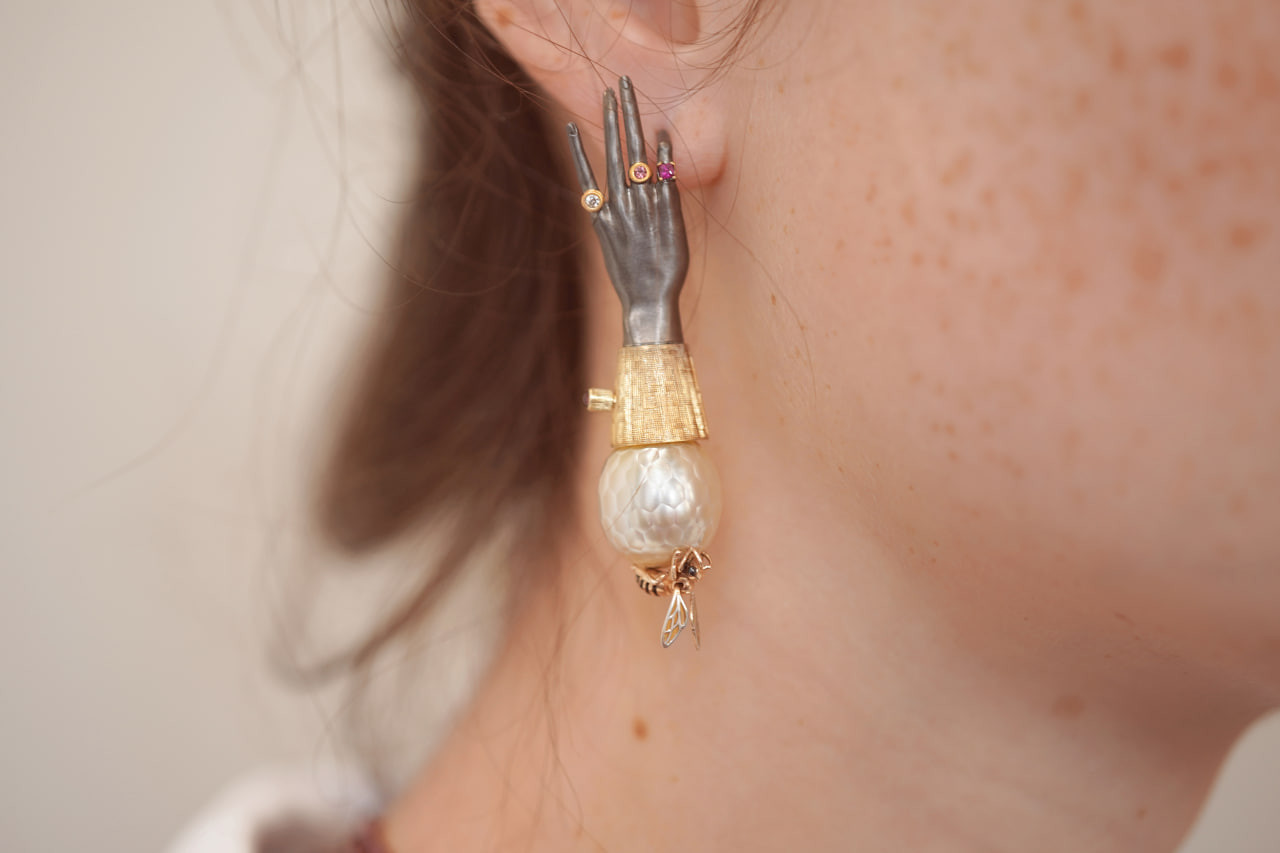 Upcycling in jewellery art is not only about the physical salvation of rare jewellery but also, to a great extent, about the processing of meanings. Elena also refers to the Victorian motives and principles of human communication with society through the language of symbols and gestures, and in this updated dialogue, the interlocutors may already have their own new interpretations of the seemingly familiar gestures. According to the artist, it is now important to process and rethink not just the physical and historical but also the emotional.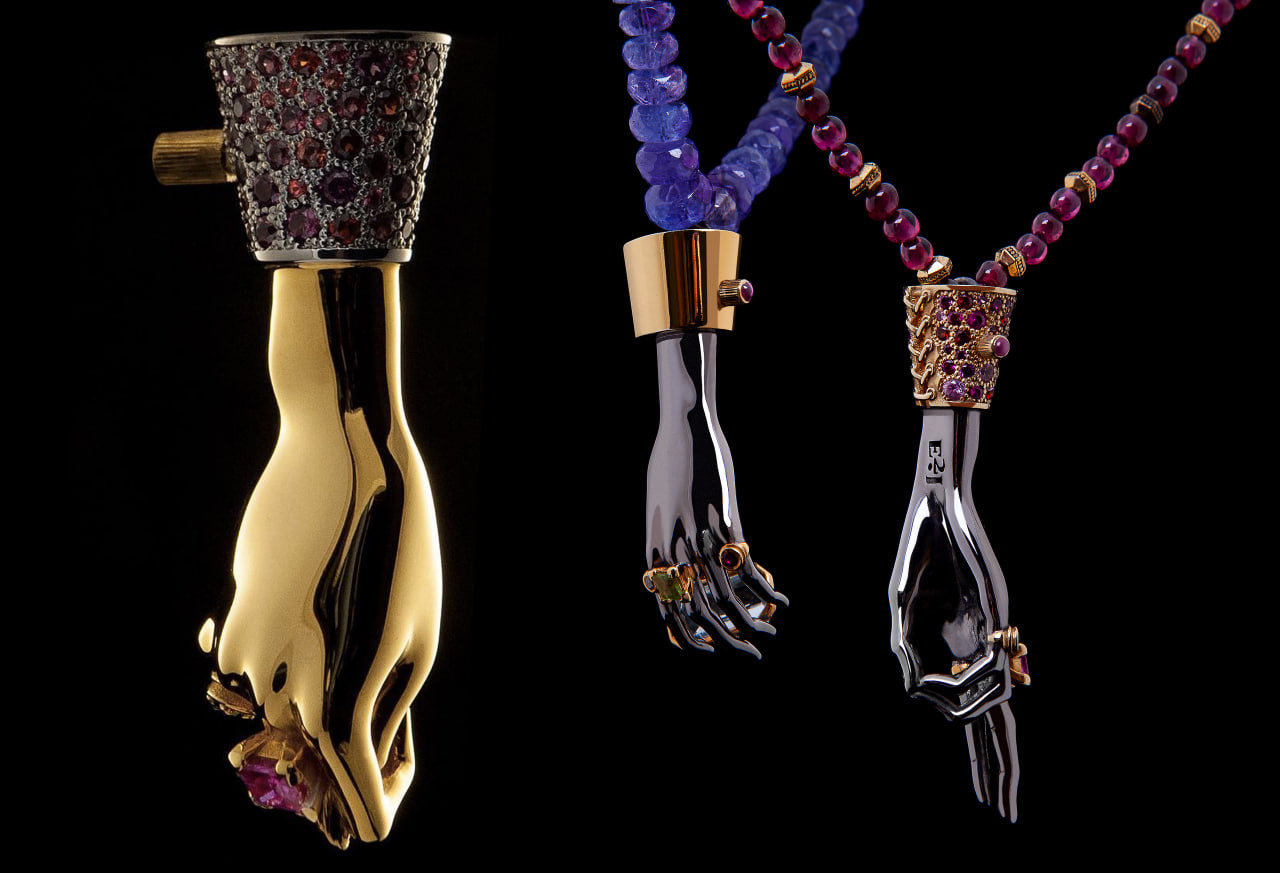 I warmly recommend that you familiarise yourself with the artistic practise of Elena Esaulova. She is an outstanding and multifaceted artist with a unique artistic and ethical approach. It certainly expands the scope of contemporary jewellery art due to its active eco-position, critical social optics, and skillful anti-kitsch polystylism. Her jewellery works have a multifunctional character; they can be used as gallery exhibits, as jewellery for daily use, as luxury items, or as objects for cross-cultural meditation. The images created by Elena Esaulova are able to reflect not only the social status of their owners but also political and economic realities. And if not everyone wants to wear a once-broken cameo on the lapel of a coat, even glued together by the kintsugi method, then the reinterpreted and even newly created traditions of contemporary communication in the language of emojis, ironic memes, and gestures are becoming more and more relevant in the contemporary world saturated with visual noise. Among the ubiquitous experiments with meaning and form that we encounter daily in art and fashion, the appeal to classical forms of art and, in particular, rethinking traditional approaches, becomes a unique creative experiment.
Subscribe to Elena Esaulova at the following links:
https://instagram.com/lenaginarium