Anna Butenko's career and works show us her unique development and relationship with art. Anna is a good lesson to young artists starting out, just as much to those further on in their careers looking to rediscover some inspiration. The Russian art expert and art manager Alya Hestanti says about the artist: «Her art is unique and touching. Anna's art style reflects the artistic identity of a person who grew up in a post-Soviet space, exploring wider possibilities and looking into finding her roots, a search to which many people can relate».
Moscow artist Anna Butenko started off sketching in courtroom trials of political protesters in 2012, which turned out to be the roots of her own artistic style. These sketches were shown in the international exhibition "Drawing Courts" organised by the human rights centre Memorial and educational centre of the Andrey Sakharov Fund — Anna's very first exhibition.
From there Anna went on to become a student of drawing and painting at the Alexey N. Neyman studio of fine art in Yam (a village near Moscow), where she continues to study to this day. In his time, her mentor was a student of the great Russian painter Vladimir Weisberg of the Soviet non-official art school. This was a very special experience of being introduced into a lineage of artists taught in a certain philosophy of art, based on universal harmony of composition and colours. The colourful and subtle works of these two great artists, on the boundary between impressionism and expressionism, have influenced Anna's painting style immensely.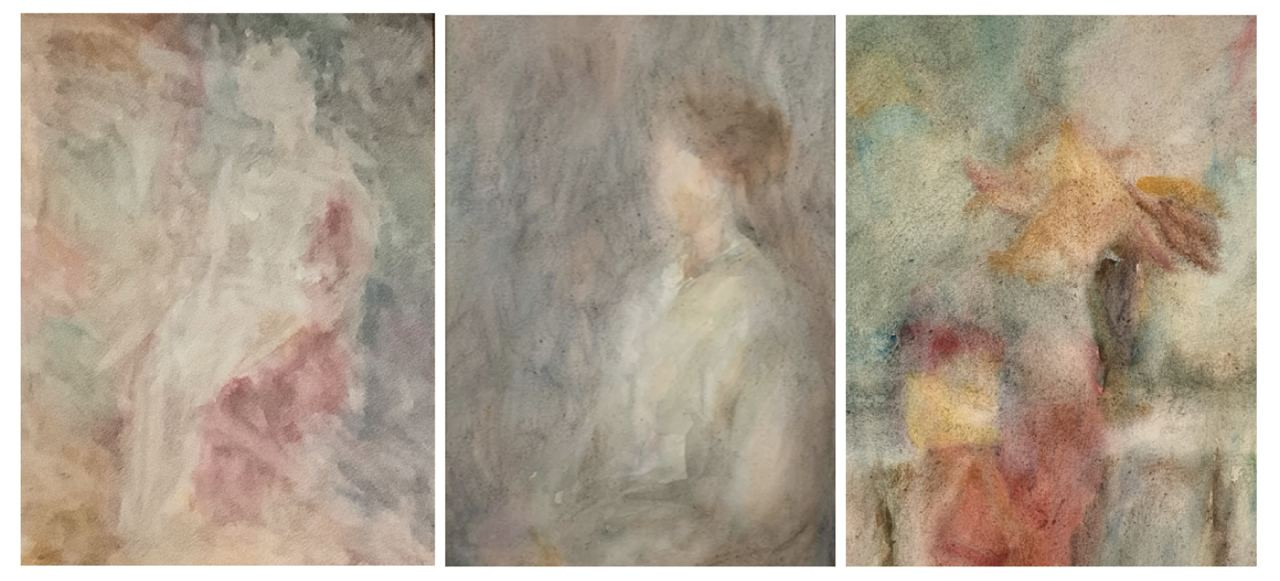 The artist's view of the traditional media further evolved when she enrolled at the «Free Workshops» at the Moscow Museum of Contemporary Art in Moscow — the place for study of contemporary art that is considered to be one of the most influential and well-established in the country. There she dove deeper into the history of art and started adding digital elements to traditional painting and graphics. In an exhibition at the Museum of Moscow she created series of paintings, but with added soundscape, thus making a painting and sound installation. Viewers could both enjoy the painted colorful scenes of the Moscow's old streets and listen through speakers to their sounds, following the artist's path through streets of the old city.

The Free Workshops school of contemporary art is also widely known for its liberal and friendly atmosphere, and very soon Anna got close with other artist students and together they created an artistic group. This Group Roi («swarm» in Russian) since then has developed a big video art and performance portfolio with international awards and showings around the world. The group consists of women who graduated from the MMCA together with Anna. Since 2017 the group Roi has taken part in more than a dozen international and national exhibitions presenting their video art and performances. Their art is personal and focused mainly on issues related to their identities as women of diverse backgrounds in a modern capital city. They create videos and performances employing modern urban practices and folk rituals and traditions. For example, in the video "Laundry" Roi reenacted a traditional ritual of public linen washing in order to work with trauma — linen representing traumatic experiences that never can really be washed out and remains in stains and colours reminding of the way they've come to this point. This video art, in particular, earned the group international recognition and an award from the Creative Culture Agency Qatar-Russia with support from MMCA.


Anna's most recent projects include digital graphics related to current disturbing world event. Anna believes that it is important an artist to be able to continue speaking for peace and humanistic values through their art. As before, the artist perceives art as a process of communication with the world, a search for harmony and a cure.

Edited by Benjamin Jones